How We Can Help You in 2018!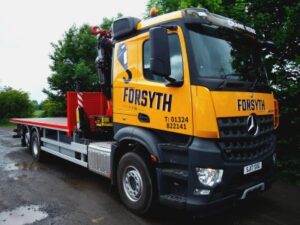 At Forsyth of Denny, we have been providing our services since 1955 by providing lifting and logistics solutions. With a fleet of over 38 kinds of state-of-the-art cranes at our disposal, we have the right equipment and expertise to help move whatever you need.
We are one of the longest and established crane hire companies in Scotland, and we win business due to the high level of service and skill we offer to all of our customers. There are highly skilled and experienced teams in place and our operators are used to working on a wide variety of tasks and have experience of many different types of load – from building supplies to cabins, from cable drums to gas pipes and from containers to plant and machinery as examples.
If you are planning a job in 2018 that requires a mobile crane, why not contact us today for a quote to see how Forsyth of Denny can help you.
Categories